Advertise
First things first!
If you are a non-profit organization, and you would like to have YOUR event placed on our calendar, just let us know all the details by contacting us! We will gladly help you spread the word about it!
Are you a business owner who would like to advertise with us?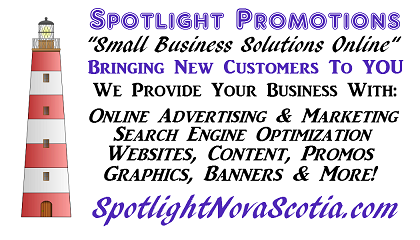 Whether you're seeking a service/product review, or a simple banner spot; we can help you gain the exposure you need right here at Spot Light Nova Scotia!
SpotLight Nova Scotia has the targeted traffic (online visitors) you require to increase publicity and awareness to your specific business or product both locally and beyond. Attract tourists and local community members by letting them know about your great service right here by having a review, or place a banner so they can click through to your website to learn what you're establishment is all about!
Please click the infographic below for a better understanding of why online reviews are more important than ever before…
Don't have a site for your local business?
We have the ability to get your presence online started, by providing you with a website ready to go! We can even keep it maintained for you throughout the life of your business, ensuring it's hosted on a server, up to date, clean of viruses and spam!
Need someone who will post the updated information on your new website? No worries! If you would like, I can update your content with upcoming events and specials, to keep your current and potential customers informed with the latest buzzzzzz. 🙂
We have several years experience building and running websites, as well as a firm understanding of internet marketing and advertising materials. Why not find out what we can do for you?
How much is this going to cost?
SpotLightNovaScotia.com is no different than you, as we are just trying to get by as well. We are a small business, working for small local businesses within Nova Scotia, so we understand your financial needs.
Don't get scammed by the "Professionals" who try to squeeze you for thousands of dollars to get something like this done. Doing this is just wrong and is highway robbery; this is NOT what we are about! We want to save you money so your business can continue to grow and thrive by paying a fraction of the "Qualified Professionals" cost.
To further help you, our prices INCLUDE all taxes and fees! So the price you see, is the price you pay! The average cost of an individual service is approximately $30, and up to around $200-300 for quotes on a full-blown, all-inclusive project utilizing multiple services. This is VERY reasonable and affordable when compared to our competition!
How will you make payment?
We have several payment options available to you, such as cash, cheque, money order, bank-to-bank transfers & credit cards through most online payment processors, however we prefer to discuss the billing options after we have thoroughly assessed your needs and finalized your personal price quote, so we are both on the same page in regards to your service review and/or website services order (any large, custom orders over $200 require a 50% deposit upfront before any work begins).
ADVERTISING PRICES
Banner Advertising Online

ALL

blog sidebar and footer banner spots – $19.95/month OR 49.95 for three months
Sizes available are 125 x 125, 120 x 600, 250 x 250, 300 x 250, 468 x 60, 728×90 (in pixels)

These prices are for the ad spot only if you already have a banner graphic available for use. However, if you do not have one, and would like one, we can happily have a customized banner created just for you, starting at only $12.00! Contact us for exact pricing!
Verified Purchase Reviews
$29.95 plus cost of service provided & related expenses.

$39.95 for a featured review, which includes your image in the slider at the top and "Best" section in the sidebar.
These reviews include an overall inspection of what the public would see when they walk in. Myself and Henry will include:
Atmosphere and what it looks like, both on the outside and inside.
General Safety (Clear walkway's, accessibility, etc)
Cleanliness of eating areas and bathrooms, cutlery, etc.
Family friendly establishment or a more quiet tone.
Type of service from staff
Wait time for receiving product/service
Quality of product (food, software, repairs, etc)
Billing
We prefer to take a couple of pictures of your establishment during our visit, so your potential customers can see how fantastic your business is!! However, if you would rather not, we respect that and will mention that in the review.
NOTE: If you want your service to be checked for being child-friendly, I will gladly bring mister man along, as he will make sure everything is up to snuff!!  Beware… He asks for treats, and likes them A LOT! 🙂
Want to get a website for your business? Perhaps you already have one and you need it updated?
We offer a wide variety of separate services and packages to make your website a success. Whether it's putting a website together, writing content updates or getting on the social media train, WE can help you.
If you're interested in this part of our service, click HERE or on our own ad at the bottom of the page, to learn even more about what we offer!
The opportunities are indeed endless!!
Have fun, learn and explore!